Raw Food on the Road – Gas Station Smoothies # 1
The saying when there is a will there is a  way, is very true. When you want something bad enough – you'll go to the extremes to make it happen. In the video below, my brother and I make a smoothie at the gas station, in the wind at dusk….Click play to watch my MSM Power drink made at the gas station in the trusty VITAMIX. The mission here is to prove, that if I can make a smoothie out of  the back of my truck at a dirty gas station, you can make them from your home and benefit from raw SUPERFOOD Smoothies too.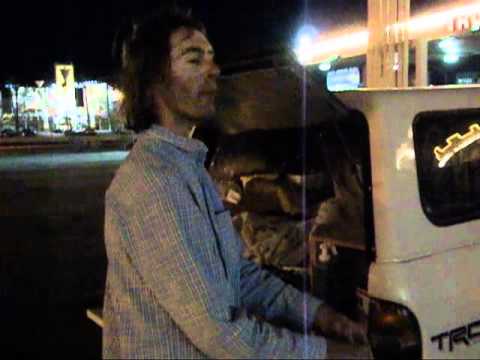 MSM Power drink ingredients

Lots of fresh oranges
1/4 c of aloe juice
4-6 tsp of MSM powder
1 optional lemon
*********************************
MSM is abbreviated  for Methylsulfonmethane. A long crazy name for a naturally occurring compound that is found in small amounts in some foods. Typically, MSM is available in powder form as a nutritional supplement. The sulfur provides vital building blocks for your joints, hair and nails. I have found a MSM cream that I love to put on my face, as it absorbs topically and seems to revive my skin from the intense sun and return my youthful glow.  It's good stuff.
In his book Eating for Beauty, David Wolfe exclaims the beautifying effects of MSM. He describes it as "producing a flame like tint in the skin and creating a subtle lustre as delicate as the halo around the full moon on a clear desert evening."
Ha! I find that funny as I compose this post and video in the Mojave desert. Anyway you like your smoothies, try adding some MSM powder!
If you enjoyed this video and blog post please share it with your friends on facebook to spread the message of how we can all whizz up Superfood Smoothies…at home or on the road. Have a wonderful day!
Be Well,
Sue
Related Posts: