Store
People often ask me the same questions.
What juicer do I recommend?
I love the solo star when I am home for green drinks
And the Z Star When Traveling or without power:

Where I get my sprouting seeds and equipment? What do you need to grow sprouts?
Sprouting Lids and More:

Here you will links to my favorite kitchens supplies, superfoods and more.
These resources are not listed in any particular order and I will continue to add more.  So check back and scroll down the page to see whats new & recommended from Be Well With Sue!
Excellent source of organic products and they are a local company I stand behind.  I dig their sprouting seeds and organic herbs!
The Ultimate Blending Machine! Its easy to get in fruits and vegetables when you have the best blender on the market. So if you want the best blender, I think its the VitaMix 5200. GET FREE STANDARD SHIPPING and a new Cookbook
Click on the banner below to find out more.

You will LOVE your VitaMix!
Another piece of kitchen equipment you'll need for healthy raw snacks and meals is a dehydrator. The only one I recommend is the Excalibur. They have reliable temperature control and an even heat source that makes the best kale chips!!                                                                                                   
Want to make raw chips and gourmet raw meals? You'll need an Excalibur dehydrator. They rock! Again, I only recommend the best on the market and these dehydrators are the best around and have the test of time behind them! Click on the dehydrator picture below to learn more about getting your own Excalibur.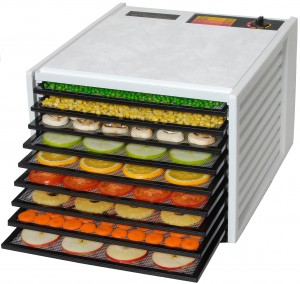 Sprout Man This guy is the Richard Simmons of sprouting and I am right behind him cheer-leading for the health benefits of sprouts! Sprouts are wonderful! Click on the Sprout Man banner to learn more about Sprout Man, Steve Meyerowitz.
Dr. Furhman is the author of

Eat for Health

, with an attitude like that, I like his style. Check out his store home page.
SurThrival Colostrum A super powerful immune booster not designed for vegans.
Camping and Self Sustainability Items
Related Posts:
Comments Closed