I love the standard cashew cheese kale chip recipe, but have wanted to experiment with different flavors. My latest experiment was with chipotle. They turned out great! Potentially a little too spicy for some taste-buds.
The purple kale looked really fresh, so I mixed purple and green kale using one bunch of each.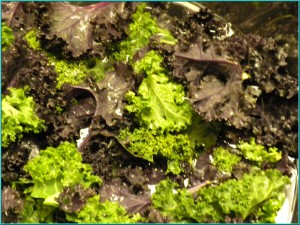 The final product was gorgeous and delicious:
Here is the recipe if you want to try them:
Chipotle Cheese Kale Chips (version 1):
2 bunches kale
Chipotle Cheese Sauce
Blend the following:
2 c. cashew
½ red bell pepper
Juice of 1 lemon
6 tbsp nutritional yeast
1 tbsp chipotle powder for hot (2 tsp medium, and 1 tsp for mild)
¼ tsp. salt
1 ¼ c water
Remove the large center stem from kale leaves and tear into palm sized pieces place in large bowl
Pour chipotle cheese sauce on chips and mix well
Place on dehydrator sheets without the teflex
Dehydrate for 2 hours at 145 F, then turn down to 115 for another 3 hours or until crisp
Eat them right off the dehydrator tray and try to save some for later.
It's exciting to create new recipes. I would love to hear your thoughts to help refine this one. The chips definitely leave you with a zing with 1 tbsp chipotle.
Enjoy!
Sue
Related Posts: