Chia seeds are one of my favorite seeds!
Why Eat Chia Seeds? I first heard of chia (salvia hispanica)  with the popular chia pet and now chia seeds are making a come back in the health food world as a raw superfood,
high in  Omega 3 and versatile in raw food recipes.
I made a funny video you can watch below introducing my chia pet.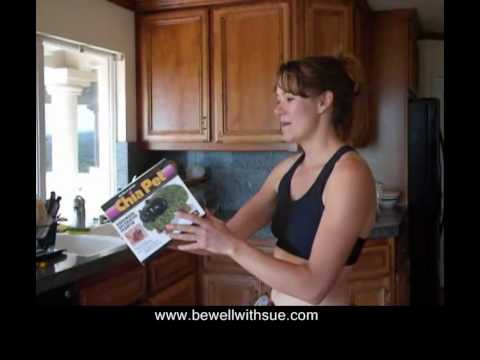 But seriously, here is why I digg the little chia seeds
My Top 3 Chia Seed Benefits (Why Eat Chia Seeds?):
Chia Seeds are great for weight loss
Chia Seeds are a Superfood
Chia Seeds are great in raw food recipes
Chia Seeds are great for weight loss…
Chia seeds have been acclaimed as a dieters dream food. The primary reason chia seeds are great for weight loss is the low calorie content combined with their jelly like coating that makes you feel full longer.  When chia seeds are exposed to water they absorb up to 9 times their weight in water forming a liquid jelly coating. This jelly coating is slowly removed in your intestines, hydrating you and slowing down the absorption of your food, so you feel full longer.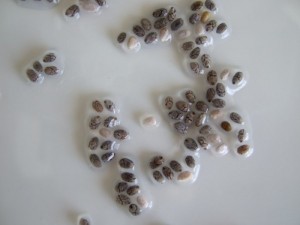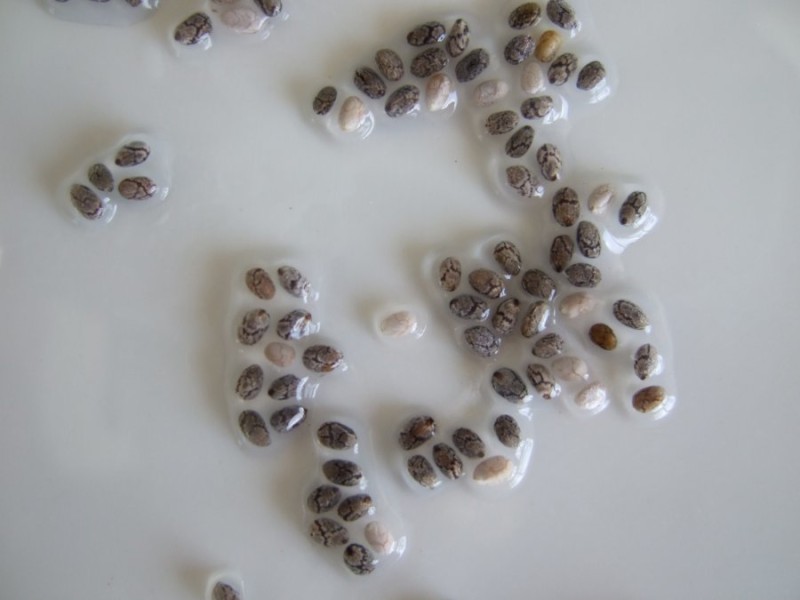 Soooo….You can stop snack attacks in there tracks with chia seeds.  Here is a tip if you find yourself getting hungry before lunch or in the afternoon and reaching for unhealthy snacks- chia seeds are your answer! Simply add 1 tsp of chia seeds to a bottle of 8 oz water or your favorite 100% fruit juice (no sugary crap), mix and the chia gel will hold you over & nourish your body with a superfood.
Chia seeds are a superfood…
Chia seeds are a great superfood to use in a variety of raw food recipes because they are virtually tasteless and take on the flavor on whatever is around them. According to one website chia seeds have:
15 times more Magnesium than Broccoli
6 times more Calcium than whole milk
Nearly 9 times more Omega 3 than Salmon
More fiber than flax and bran flakes
Nearly 3 times more Iron than spinach
More Protein than soy (and has NO plant estrogens or Cholesterol)
Amazing Chia Seeds!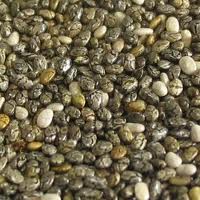 Chia Seeds are great in raw food recipes because they are a mucilaginous seed and can made to taste like anything.
That means they get a jelly like coating around them when exposed to water (really any liquid) and absorb the flavors around them. They are delicious in savory and sweet meals. I think you get the point. The jelly coating rocks! Plus that jelly coating makes a great thickener and can used as an egg replacement.
Here is a chia pudding recipe I made earlier in another blog post.
Would love to hear what you think about chia seeds. Feel free to post a comment.
Oh if you're in need of chia seed for your pantry you can get them by clicking here
http://bit.ly/cuj3ze and you'll be taken to StarWest Botanicals where they can be delivered right to door. Some health food stores will all so have pre-packaged chia seeds available.
The important thing is that you give superfoods a chance and don't forget the chia seed because of its reputation sprouting hair for the Chia Pet.
To Your Best Health,
Sue
Related Posts: