Strawberry Arugula Salad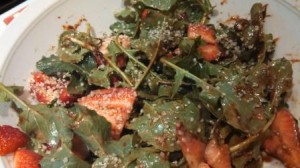 Some of my favorite salads have just 3 ingredients. Simple Combo's that compliment each other. This Strawberry Arugula Salad is great during early summer with both strawberries and arugula  in season.
Strawberry Arugula Salad Recipe:
2 cups Arugula greens (spinach is good to if you can't handle the bitter!)
1 cup fresh Strawberry
2 Tbsp Hemp Seeds
Dressing:
2 Tbsp Almond Butter
2 Tbsp Balsamic
2 Tbsp Olive Oil
Salt and Pepper to Taste
Steps for this simple salad:
1. Clean the greens and place them in a salad bowl. 2. Wash and slice your strawberries in half. 3. Toss them in bowl and sprinkle hemp seeds around. 4. Mix up dressing ingredients and drizzle on top. ENJOY!!
May Fresh food fuel you!
With Love and Green Thumbs,
Sue Thomas
Related Posts: