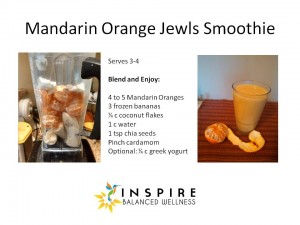 Mandarin Oranges are in season and have been a favorite fruit of mine for decades. They peel with ease and are a sweet treat.
I was inspired to create an orange Julius favored smoothie, similar to the ones I used to get at the mall. YUM! This smoothie is now a staple when Mandarin Oranges are in season.
Recipe:
Serves 3-4
Place the following ingredients in a blender, blend and enjoy!
4 to 5 Mandarin Oranges
3 frozen bananas
¼ c coconut flakes
1 c water
1 tsp chia seeds
Pinch cardamom
Optional: ¼ c greek yogurt
I have a saying, "There is a Reason it's In Season" and the Placer County Mandarin Orange has scientific data backing the mantra to eat local and in season.
California Placer County Mandarins have been studied by the USDA for their natural decongestant and allergy relief properties from synephrine. The data from the recent study showed that Placer Mandarins had six times  more  synephrine than oranges! How interesting to consider Mandarins ripen in the late fall, providing relief from the common cold, allergy symptoms and congestion – when a lot of people get sick.
"Every time I ate them, I felt so much better and my sniffles went away. But you can't say there is something special about them unless you have the data" said Joanne Neft, Placer agriculture advocate and author of "Placer County: Real Food from Farmers Markets, Recipes and Menus for Every Week of the Year", who raised the funds for the study.
Just imagine ALL the health benefits of that small orange jewl with six times more synephrine than oranges!
In addition to being a natural decongestant each sweet Owari Satsuma Mandarin Orange provides:
Vitamin A: 420 I.U. per 100 gram
Vitamin B: Thiamin .07 mg
Riboflavin .03 gram
Niacin .2 gram
Vitamin C: 31 mg
Carbohydrates: 10.9 gram
Calcium: 33 mg
Iron: .4 mg
Phosphorous: 23 mg
Potassium: 110 mg
When you blend those nutrients with the good stuff in banana, chia seed, and coconut flakes you get an awesome health promoting smoothie .
Note: The frozen banana creates a creamy texture when blended. They are very easy to buy in bulk and store in Tupperware in your freezer for convenient use. Make sure you remove the peel and preferably wait until the bananas are ripe prior to freezing.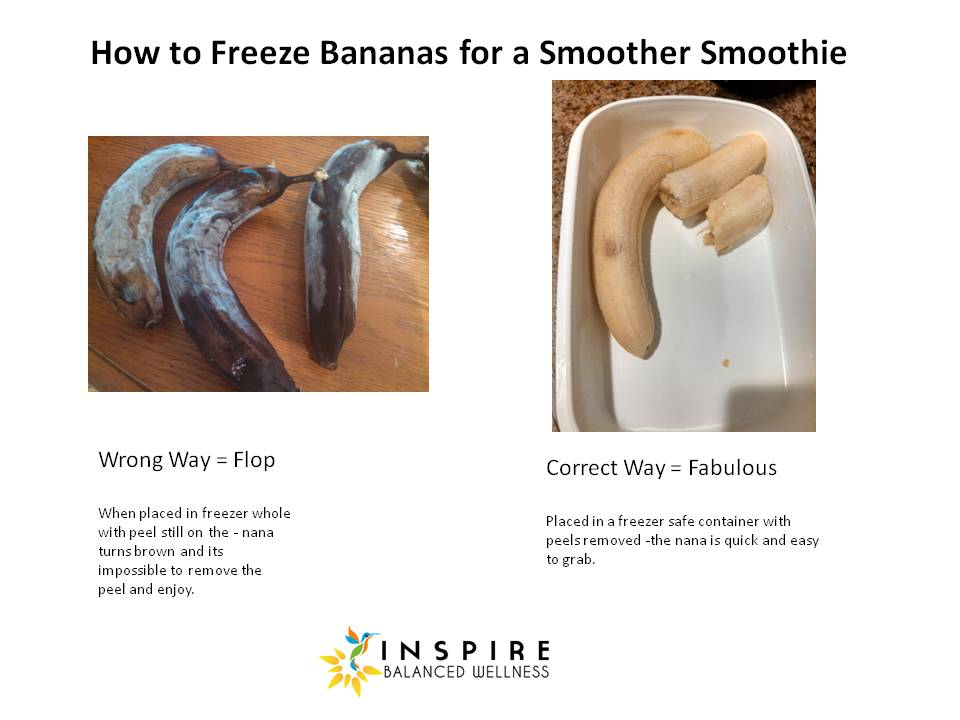 Thank you for stopping by today. I hope you enjoyed this recipe post.  Feel free to leave a comment with your favorite way to enjoy the delicious Mandarin Orange. Please share this post with your friends and eat some mandarins!
If you do not live in Placer County the Mandarins have become so popular you can even order them from Amazon here: Satsuma Mandarins Placer County California 10 Pound Box (Expedited Shipping Suggested)
Mandarin oranges are also good dipped in chocolate, as shown with this earlier video blog post: http://www.bewellwithsue.com/fast-fun-valentines-treat-chocolate-dipped-strawberries-and-mandarins/.
Enjoy the Season & Be Well,
Sue Thomas
References:
http://www.mandarinfestival.com/mandarinstudy.html
http://www.mandarinfestival.com/nutrition.html
Related Posts: