Hello There!
Okay. Fair warning: this post is about how to use a neti pot and contains bathroom images.
Brace yourself.
Today I am going to share with you my neti pot instructions. Someone needed to show you all about using a neti pot without being embarrassed!
But first, why neti? What are the benefits of using a neti pot? It has long been known that using a neti pot can be helpful for treating allergies and other nasal or sinus conditions.
But here is the deal folks, you don't need to be stuffed up to benefit from using a neti pot.
That would be like only showering when your skin started to itch.
Nasty!
I use my mine for regular cleaning to flush out the collected pollen and pollutants.
Click play on the video below to see my personal neti pot demonstration. By clicking the video below, you will be taken over to YouTube.
I will take you inside my bathroom ;0)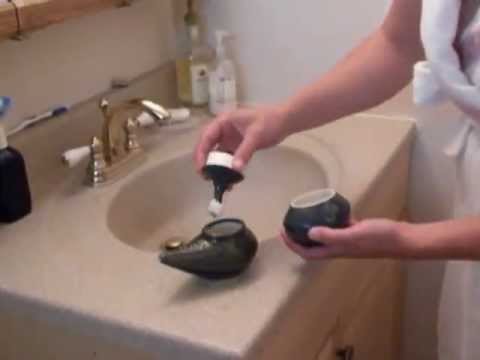 Think about how good you feel after a nice shower. The awesome clean feeling. Well don't neglect to cleanse other parts of your body too. Use a neti pot to cleanse the sinuses and enjoy a really good deep breath.
It is not that awkward once you try it!
You can get a similar  Neti Pot and Salt Jar by clicking this link>>> http://bit.ly/YrtPJC
To your health and happiness,
Sue Thomas
P.S. Can you believe I made that video fresh out of the shower and showed the gross nostril shot? What do you think? Pretty brave move to motivate you to try the Neti Pot don't you think? 😉
Hey, do me a favor and let me know your alive.
It would be awesome to know that you are reading this post by leaving a comment and liking this post.
Related Posts: