Chia pudding for breakfast? Heck YES!
In this video I show you how to make a simple chia pudding for breakfast and continue sprouting alfalfa seeds in a jar. This pudding is very nutritious, as chia seeds are considered a superfood. They are a great source of Omega 3 and 6, calcium, iron, protein and have a fabulous texture. My dad claims it is SO good that the chia pudding will replace his oatmeal for breakfast.
There will be more to come with the Sprout – A- Thon next week as the sprouts grow and I prepare for the filming of the Sproutology DVD.
Click play to watch  How to Make Chia Pudding & Sprout-A-Thon updates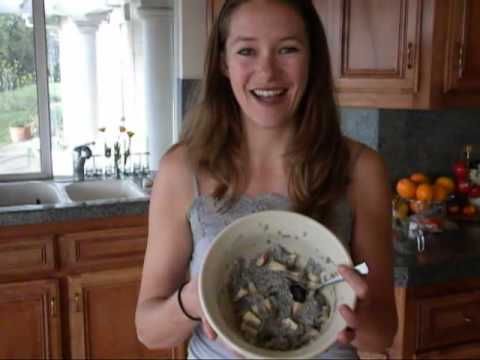 Simple Chia Pudding
½ c chia seeds
2 c milk ( today I used almond milk )
½ apple or more
¼ tsp cinnamon or more
Steps:
Mix chia seeds and milk together in a bowl and let stand for 15 – 30 min
Stir in chopped apple & cinnamon
Enjoy! And let me know what you think!
So….
If you have any questions about practical raw food, please don't hesitate to ask me on the
Practical Raw Food Q & A page. Click here to post a question.
AND…
Next week during the  SPROUT – A- THON I will be testing recipes submitted by professional chefs for Sproutology! Yummy!!! Finger licking good…;)
I would love to hear what you think about the simple chia pudding and chia seeds in general. Please post your comments down below.
Be Well!
In balance,
Sue
Related Posts: