Its has been over a year since Mom and I went to Costa Rica to attend Envision Festival 2016. It has all so been over a year since I've posted anything on this blog and I noticed that people still stop by to read or watch a cooking video. So I decided to share something I've been wanting to write about.
Bring your parents to a music festival. With camping and food trucks and vendors and live music.
Since it has been soooooo long, please enjoy this update and I hope it inspires you to get out and dance. Clearing my throat here we go!
5 Reasons to Bring Your Parents to a Music Festival
1. Travel
Music Festivals bring people together. While this festival required International Travel for mom and I, plenty of them don't.
We got to spend time as adults traveling Costa Rica before and after the festival and that was awesome.
It is common for music festivals to offer on-site camping and that is exactly what we did.
The story of our tent collapsing is for another day. But how great to travel and camp with great music literally out your door.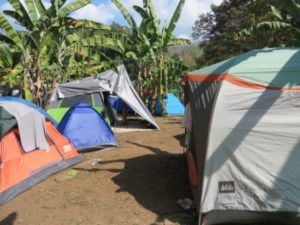 Camp site in Costa Rica during Envision Fest 2016
2. Live Music
Onto the music…OMG every festival is so different. You might like a blue-grass festival or Jazz or Reggae, or hip-hop or conscious beats with daily yoga classes.
Festivals bring together musicians. More live music = more dancing and good times.
3. Different People
I recall mom exclaiming, " wow everyone looks so healthy here – like how does this entire group of people have perfect bodies? You don't see that on the streets"
4. New Foods
Breakfast Winner in Costa Rica : Black beans, rice with a fried egg
My adorable Mother at breakfast our second day in Costa Rica Feb 2016
and new yummy combo…get ready for it…
Turmeric and orange juice. We first discovered this delicious combo in a popsicle from a food vendor in "the Village" at Envision. Now back home, my mom puts fresh turmeric in orange juice.
You can use powdered turmeric as well.
5. Inviting Them into your Generation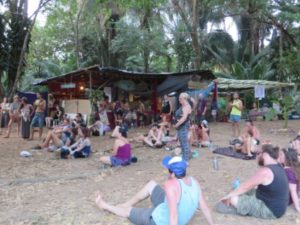 That topic came up during a question & answer panel during one of the presentations. I feel like I do a pretty good job inviting my parents into our younger generation and exposing them to the tribe.  After all, I brought my mother to her very first festival requiring international travel when she was over 60.
But most people don't do that.
That is partly what prompted me to compose this blog post.  I wanted to share that orange juice and turmeric is a bewellwithsue approved combo and as adults we need to invite the grandparents out more. Getting out of ones normal day-to-day routine is wonderful and at festivals you can share fun family moments that cross generations.
Spending time with family is priceless. Having fun together, and at times arguing is what all relationships experience. So why not experience some great live music and entertainment while you can together.
Cheers 'n gratitude to all the people putting on amazing events! Thanks for stopping by.
Do you like music festivals? If so, it would be great to hear about your favorite gatherings in the comments. Have a joyous day!
Be Well,
Sue Thomas
Related Posts:
{ 0 comments }